Parenting is a journey where a person commits to bring up his/her beloved children and fully takes the responsibility to give there best . Very few individuals can bring up children whom they did not give birth to. It requires a person with a big heart to do so. Fr. Francis Limo Riwa as a good example for that.
When he first visited Meru, he found that there were so many street children in Meru Town and the most affected were male children.In 1999 he started St.Francis children's village, a school for orphans. This school begun with about 300 street children.
Currently, the school has a population of 800 boys. His journey as both mother and father to this kids has not been easy.
However,he has tried to give his best and nature this kids and transform them from boys to men.
His dream of helping the boy-child was achieved. But he then realized that the girl-child needed his help too.There were so many young girls in Meru region who lacked parental care either because they were orphaned or came from very humble background. In 2007, he started St.Clare Girls Center a school for orphaned girls.This school started with about 50 children. Currently the school has a population of about 500 girls. It is among the best schools we have in Meru county.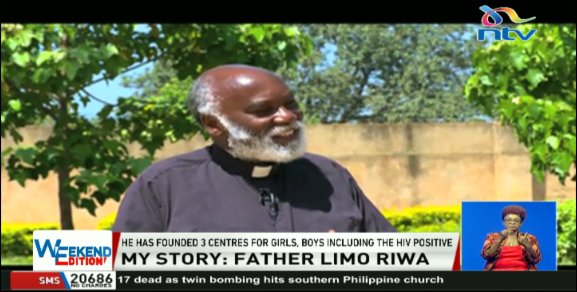 He has been a role model to these children and to many other people country wide. As we all know, education is the only way we can eradicate poverty. This is what drives Fr.Riwa to give quality education to his children. He firmly believes that his children will transform the society to be a better place.
In 2013, there were many cases of abandoned HIV positive children. Fr.Francis took the initiative and started St.Philomena a school for children with HIV/AIDS. This school was started in the year 2014.
Currently, it has a population of 200 children. This school requires much attention compared to St.Francis and St.Clare Girls Center. Defending the rights of these children from the harsh society has not been easy. He never lost hope nor gave up on them. Instead, he treats them with care and provides a shoulder that they can always lean on.
He extends his big heart to the community by coming up with projects that benefit not only his schools but the entire Nchiru region. For instance, he has been able to fight water shortage by providing tap water to the nearest market(Nchiru market). This is among the many reasons why he is called "A man of change"
His many acts of charity cannot be captured in a single story.
Chesnut Hill University college, a school in America awarded him a Degree of Honour for charity work he has been doing. Trust me, if we were to write all he has done towards helping the less privileged, we would end up having a full book and not a short story.
Fr.Francis Limo Riwa is indeed "A man of change."