It was all about an unattainable dream sold to a population trying to pry itself out of poverty and into a better life.
For close to two years, Crowd1, an online based investment opportunity promised the key that would open the doors to a magical kingdom. Until it all came down, bringing with it the ambitions and dreams of Africa's poor who had invested all their hard earned money for a chance at this life.
Instead of greatness, investigations by BBC's Africa Eye earlier revealed that investors had been left with nothing but pain and agony with some losing their life savings to a greatly marketed pyramid scheme in one of the world's most elaborate frauds.
Impossible "was" nothing
Crowd1 presented an open-ended investment MLM opportunity (no formal ROI structure), with pyramid recruitment to drive new investment.
Supposedly, Crowd1 generated revenue through online gambling.
Currently the most profitable industry is the gaming industry.

Crowd1 should have introduced their customer base to this industry in a
way that would create substantial recurring revenue for Crowd1
members without being a gaming company and without
arranging any payments to a gaming company.
Although it claimed to generate external revenue through gambling activities, Crowd1 maintained it 'must not be mistaken for a gaming or gambling company.'
The gambling revenue was purportedly generated through third-party providers, which Crowd1 solicitited through their Affilgo platform.
The Crowd1 customer base was then introduced to external partners through Affilgo, in the form of licensed gaming companies, where agreements were made for profit sharing.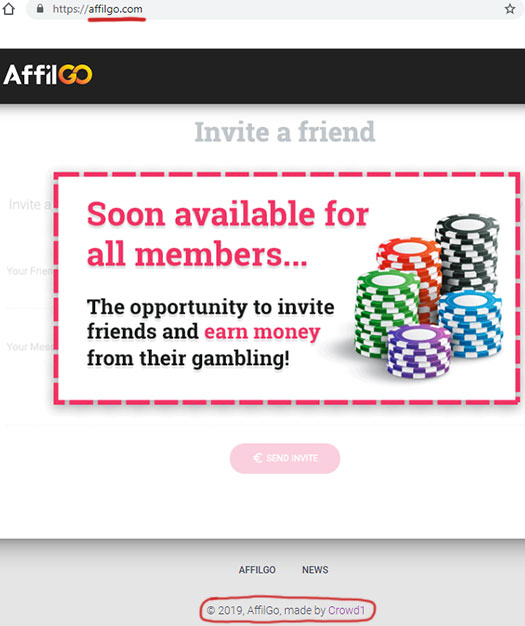 As above, Crowd1 == Affilgo.
Naturally no information about any of the supposed gaming partners Crowd1 had is provided.
Yet despite that, the company simultaneously touted accumulated returns of 450%.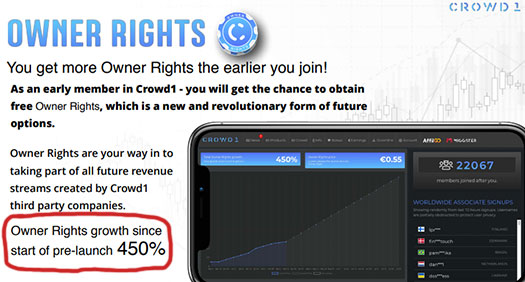 If we pull Crowd1's business model apart, it quickly becomes apparent its a regulatory minefield on multiple fronts.
Gaming is strictly regulated the world over. Hence Crowd1 being shady about who their providers are, and clarification that they themselves don't offer gambling services.
This is a regulatory concern in and of itself. With respect to the Crowd1's MLM opportunity, the more pressing concern is the passive investment opportunity offered through "owner rights" shares.
The earlier you joined during prelaunch, the more beneficial the Owner Rights program would be for you, as the Owner Rights would steadily increase in value.
All pioneers and members would be able to get a very good return on their Owner Rights since the user base was to increase massively.
Crowd1's owner rights investment opportunity was a securities offering, which required registration with financial regulators.
Crowd1 provided no evidence it had registered with any financial regulator – namely in South Africa, the Netherlands and Colombia, which Alexa currently peged as top sources of traffic to Crowd1's website.
Having not registered with financial regulators, Crowd1 was thus operating illegally in every country it solicited investment in.
The only reason an MLM company would opt to operate illegally, could be if it isn't doing what it says it is.
In the case of Crowd1, that would be using external gaming revenue to pay out owner rights shares returns.
As it stands the only verifiable source of revenue entering Crowd1 is new investment.
Supporting the fact that Crowd1 had in fact no external revenue, was the 450% return claim weighed against the fact that Affilgo hasn't even opened yet.
Using new investment to pay owner rights share returns to existing affiliates would make Crowd1 a Ponzi scheme.
On top of that you have recruitment commissions, adding a pyramid layer to the scheme (again illegal the world over).
As with all MLM Ponzi schemes, once affiliate recruitment slows down so too will new investment.
This will starve Crowd1 of return revenue, eventually prompting a collapse.
The math behind Ponzi schemes guarantees that when they collapse, the majority of participants lose money.
Currently, it's a tormenting experience for most of CROWD1 MEMBERS in the continent since most got nothing else to show other than an accumulation of CROWD1 rewards whose usability remains a discussion for another day.
IMPOSSIBLE WAS INDEED NOTHING!
Bitter herbs served hot for Christmas.